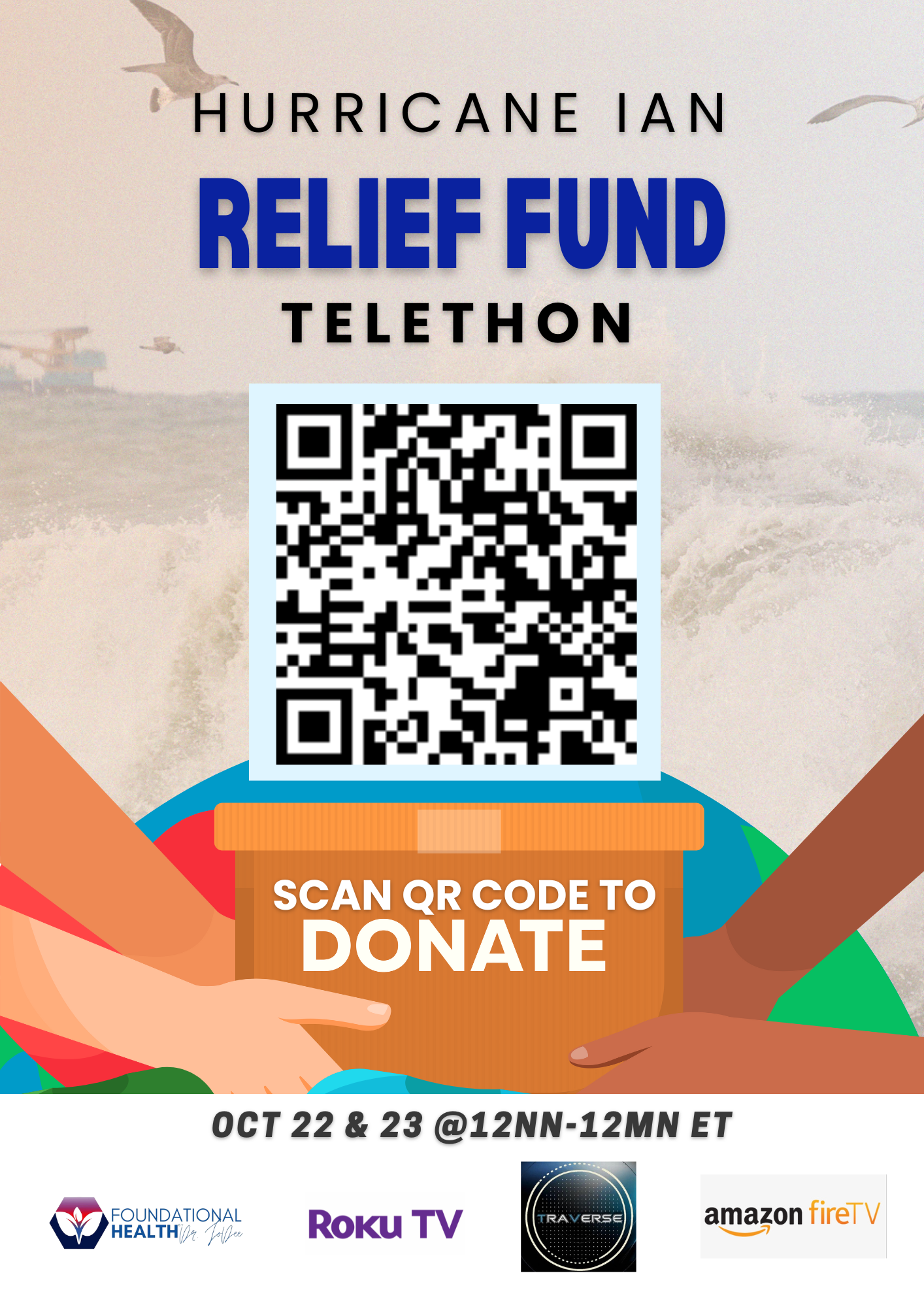 Hurricane Ian, one of the most powerful storms ever to hit the U.S., made landfall on Florida's Gulf coast on Wednesday afternoon. Ian's 150+ mph winds and heavy rains knocked out power for millions of people.
Estimated $75 Billion in Destruction
2 Million Floridians out of power
1 Million Displaced from there homes
Numerous Years of Devastation

READY make an impact for the people affected by Hurricane Ian? TOGETHER? We CAN make a Difference…. You can:
Become a Sponsor with your Business—- And run and AD or have one custom made by our TraverseTV Marketing People (Only 20 slots remain)
Impact with your message as a Speaker
Make a difference with your donation
Be a PART to Spread the WORD and awareness
OVER 80 Speakers and Testimonies of HOPE!
Join me SATURDAY and SUNDAY: October 22 and 23rd
NOON to MIDNIGHT EST each day.
To experience how TOGETHER we can raise $1 MILLION— Just scan the QR CODE Above—OR-
(All proceeds go directly to hurricane affected Floridians)
TO VIEW our TELETHON: www.watch.traversetv.com
ROKU and APPLE TV
AMAZON PRIME
Channel 55 (Local CBS Affiliate) in Orlando, FL
FLAGLER TV on FACEBOOK
Dr. Jo Dee Baer
"America's Top Foundational Health Coach"
Certified Health Coach/Holistic Nutritionist PhD
Author/Speaker/Trainer/Philanthropist
1-800-852-0854
Cell: 678-522-3757
https://calendly.com/jodee-7/connection-with-dr-jo-dee-baer
www.DrJoDee.com